No more than a month ago "Cheap Trick's" stage collapse shortly after they had left the stage in the Ottawa Bluesfest in Canada. And now the same or similar incident happens to country band: Sugarland. Only this time the catastrophe was more horrific with 5 people dead and 40 more were injured including 3 children. These stages seem to be collapsing due to high winds and related weather issues. Do they not build these stages as steady as they use to?
Sugarland's members: Jennifer Nettles and Kristian Bush were not injured and seem to be alright as they tweeted: "We are praying for our fans, and the people of Indianapolis. We hope you'll join us. They need your strength."
A concert goer stated that the stage "snapped like a toothpick." It was a terrifying sight as concertgoers rushed to tons of metal to try to free those that were trapped beneath all the metal, while others made stretchers out of their seats to help carry wounded people out to safety.
Why are these freak accidents during concerts/festivals occurring? You would think these stages were made to withstand high winds. It's not like it was a Hurricane or Tornado, we're talking about "high winds." It seems as the people who put these stages are slacking in their work and people are dying because of this "assumed" negligence.
In fact, it's all so strange that the local paper: Indy Star has revealed few details about the conditions of the people injured during Sugarland's concert. All we know is that there's a handful of the concert goers in critical condition or intensive care.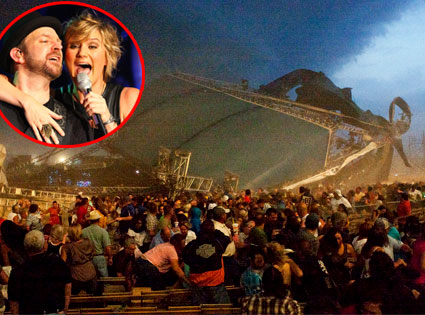 Though the topic on why this stage collapsed has not been touched, the same thing happened when the stage collapsed during Cheap Trick's concert. Are these mere, accidental coincidences caused by mother nature's violent winds or are these cases of negligence and a poor job done? Drop your comments and opinions on this matter here at Celeb Celeb Celeb.