Carrie Fisher, best know as "Princess Leia" of Star Wars celebrates her outstanding weight loss as she lost 50 pounds in past 9 months. Carrie Fisher is also, a self-effacing author and spokes person for Jenny Craig.
On the Today show, Carrie Fisher appeared looking the best she has in years in which Ann Curry greeted her by telling her she looked "beautiful." Carrie Fisher once upon a time was in every man's dream and the envy of many women as she looked absolutely breath taking in her Star Wars bikini ( a metal two piece.)
Carrie Fisher is now 54 years of age and naturally her beauty is not as she was in her younger days back in 1977 in Star Wars. However, throughout the years Carrie Fisher struggled with weight issues, but as of now she's feeling wonderful and looks gorgeous with her weight loss.
Carrie Fisher stated: "Before the weight loss. I couldn't leave the house [to go shopping], because they didn't have sizes large enough. I exhausted the alphabet on bra sizes." Carrie Fisher also confessed that "she could no longer look at herself in the mirror"
Carrie Fisher is now proud at the fact that she can again go out shopping for clothes that she fancies and couldn't imagine wearing prior to her remarkable weight loss of 50 pounds.
Carrie Fisher says she's addicted to the "Jenny Craig" weight loss plan. She says it tastes like "contraband," which appeals to her. Carrie Fisher also, gave props to her consultant who allowed her to "to complain as she stomped her fat foot saying she didn't want to do it."
Apparently this was not an easy journey for Carrie Fisher, our beloved "Princess Leia," but she seems fully appreciative of following Jenny Craig's weight loss plan and is feeling just wonderful about her self image which reflects in her chipper attitude.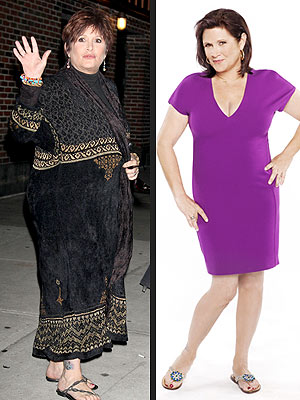 Congrats Carrie Fisher a.k.a. "Princess Leia!"